How To Make Money With No Money
How To Make Money With No Money sounds like an impossible task. And I should know. I lost just about every single thing I ever worked for.  And then while laying in bed recuperating – and staring out the window I kept thinking – how in the world am I going to create a new career.
And of course – the thought of how to make money with no money went through my mind like it was on a recording – and on continuous play.
So if some of us hit the wall of despair and hard times – how do we make a come back?  And how can we possibly make that come back – when we have no cash to invest or work with?
Well – I guess there may be ways here and there.  But no matter how we cut it – we have to think differently.  And – most likely we will need to do some things that we have never done before.
Now – I am not going to write about a dozen different ways to make that come back – but I am going to tell you about one way.  And yes – that way does not cost a dime – so just about anyone can do this……for free!
How To Make Money With No Money – If You Have Access To The Internet
Now if you have access to the internet – and that would even mean a computer in a public library – you can actually make money even if you don't have any money to invest.  And that method or strategy is called affiliate marketing.  Now calm down – because I know that you are thinking about "sales" – and most of us hate sales.  But this is different.
This is sort of like bill boards.  You know what I'm talking about and you see them on the side of the road.  Even dumb bill boards that have a picture on it and they say something like – "Got Milk?"
You see – bill boards make people think about something.  So something as simple as a picture and a short sentence or phrase – can motivate people to do something.  And that my friend is pretty much one great strategy that we can use when we work in affiliate marketing.  We can post an image on the internet that is click able – meaning that when someone clicks on it – they are taken to a website.
I made the image below "click able" for you to try if you wish.  It will open up in a new window – to make it easier to come right back here.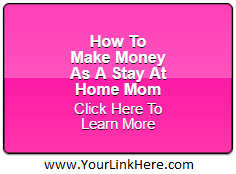 OR – we can put the link to the website on the image somewhere – instead of making it click able.
Then – the person looking at the image can take that web address or link – and type it into their internet browser.
I put an example Fake Web Address at The bottom of the example image to the left to show you what I mean.
And in affiliate marketing – a software program tracks the link and knows that it belongs to you.  So if someone clicks on a link, an image – or types in a link into a browser – and then they buy something……you get paid a commission.
Now I don't know if you've even heard of affiliate marketing before or not.  But – I am pretty sure that you have heard of Amazon dot com, Netflix, Walmart or maybe even Go Daddy.  And all of these companies – and thousands of others – use affiliate marketing to promote their products or services.
How To Make Money With No Money – With The Best Affiliate Program That I Have Ever Found
Affiliate programs come in all sorts of shapes and sizes.  And by that I mean they can be about all sorts of different products – and they can also have all sorts of commission rates.  Well – when I look to get involved in affiliate marketing so I can work from home – I want to get paid very well for my efforts.
Now I also want something else – if at all possible.  And that extra something else is called leverage.  So what is leverage?  Well leverage simply means that you can make more profits from a smaller effort.  Or perhaps explained a different way – we want to make as much money as we can – with the least amount of effort.
So in the marketing world – and sometimes in affiliate marketing – it means that we can actually earn commissions or bonuses on other people's efforts too.  And the way we can do that is we can actually refer other people who want to make money with the same company.  Now think about that for a minute.
If we found someone that wanted to do what we are doing – the company may never have found that person if we didn't refer them.  So – to reward you for bringing that person to the company – the company gives you a small percentage of that persons labor.  And that can really add up over time.
And that means while you are promoting either the company's product – or the company's affiliate program – either way you still can make commissions…..or bonuses.  Now – don't forget – this is free to join.  So if you're down and out – but willing to learn and willing to work – well then there you go.
You're now getting the answer to your question – How To Make Money With No Money!  Because you actually don't need the money – you just need the willingness to do some work.
Anyway – my favorite affiliate marketing program can be found right here by clicking on The Best Affiliate Marketing Program.  And don't worry if you don't know how to make pictures or promote something on the internet – I can teach you all of that!  So check it out – or pass it onto someone who could use a helping hand!
Comments
comments