MLM Clue To Why You Fail At MLM
MLM Clue To Why You Fail At MLM may be right in front of your eyes.  And you are not the only person that has failed at MLM.  So check out this MLM Clue.  Because it is right in front of your eyes.  And it is based off of statistics and math.  So let's do some math – and look at the truth as to why you may have failed at MLM in the past.
And then – let's fix that problem once and for all.  Let's fix the problem – and turn MLM into a viable way for you and I to actually become that Work From Home Entrepreneur like we always dreamed of.
So – statistics show us that the average person only sponsors 1 to 2 people into their MLM.  PERIOD!
I mean the average person will join an MLM of some sort – and you know what happens next.  Yep – their sponsor says – sit down and make a list of 100 people.  You know.  Your friends, family and people that you know.  Now stop and think about that list for a minute.
Is that list made up of people who hold you up on a pedestal as a successful entrepreneur?  I mean – do you already make so much money in MLM that people will stop in their tracks – and want to learn how you did it?  And is that list made up of people who actually – want to be an entrepreneur?
Now – if you said no to any or all of those 3 questions – you are starting to see something here.
MLM Clue #1 – Your List Determines Your Success
Now here is your 1st MLM Clue.  Let's say that the questions that we just asked – determines the quality of our list.  So the first thing that we have to do – is create a better list – one that is a higher quality list.
With that being said – we need people on our list – that are actually interested in making a second income.  Or – a better income.  We need people who actually want to make things better for themselves and better for their families.
And – if you don't know enough people that would be on that list – that hold you high on a pedestal – then we need different people.  And – if you don't already make a lot of money in MLM – well then we need to make this list a different way.
Now before I go any further – I am not suggesting that you "Fake It Until You Make It."  Because if you base your business on a lie – believe me – you are not worth joining.  You would never be my sponsor – if I didn't have some sort of trust in you.  And trust me – people are pretty good at seeing through the fakes in this business.
And if not – the first time…..certainly from there on out.  You know – "Fool me once shame on you.  Fool me twice and shame on me."
So you need to be truthful and honest.  And if you don't already make a lot of money in MLM – and it's almost guaranteed that you don't – then you need to provide VALUE instead.  You need to provide your prospects on your list – something of great value as leverage!
And we'll talk about that in a minute!
MLM Clue #2 – You Need A Bigger List
Remember the movie Jaws?  When they finally got close enough to their adversary – they realized really quick – that they needed a bigger boat!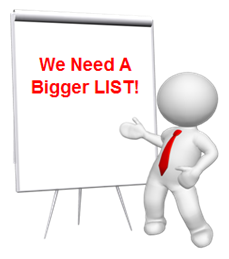 And that's what statistics show us.  So let me quickly show you what I am talking about.  We started off by saying that the average person only sponsors on average – 1 to 2 people into their MLM.  Now let's ask one more question.  Is that their fault?
To clarify – is it their fault that they could only sponsor 1 or 2 people?  I mean is it because they are dummies?  Or – quitters?
NO!
It's called sales and marketing statistics!
You see – in marketing a typical conversion rate – from a visitor to a customer – is about 1% to 2%.  That means if we have a list of 100 people – and 1% to 2% accept our offer – we would end up with 1 to 2 customers.
Did bells and whistles just go off in your head?  Did you just have an epiphany?  Well I certainly hope so!  Because the average person doesn't fail because they are dummies – they fail because of this MLM Clue.  They fail because their list was made up of the WRONG people – and too FEW of them to begin with.
So just like in the movie Jaws – now that you have seen your adversary – you need a bigger list.  You need a bigger and a better list – in order to grow your MLM.
Now – how do we do that?  Well we do that by using attraction marketing.  And in attraction marketing – we offer value.  Lot's and lot's of value.  We don't go around saying silly things like – come join my opportunity because you can make big checks.  And you don't even flaunt your products – or make bogus supernatural claims about your products.
No!  You give away great value!  And when you give away great value – people grow to know you and to trust you.  And when they do that – THEN and only THEN – will they be open to your business opportunity.  And even when that happens – there are so many MLM's out there – that they still may not be interested in what you have.
But when you have a big and high quality list – you will still get more and more people to join you in your business.  Now – how do you do that?  How do you offer people great value – and at the same time – build a larger and higher quality list?
MLM Clue – And Our Answer To The Problem
You see we recognized this problem and we didn't just want to answer the problem for ourselves.  We wanted to answer the problem for our entire team.  So first we learned that there are so many MLM's out there – that we needed a way to make an income from all of those who said no to us.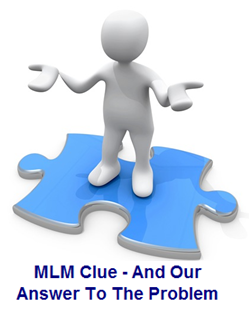 And – we needed to make our list bigger and better – but so did our team.  Now typically the normal mode of operation is to teach your team what you are doing.  But the problem with that is that everyone starts out at zero.  And it takes too much time for people to get up to speed.
I mean you and I both know that you better get your team mates a check – if you want them to stay with you.  Because living that "Dream" – only goes so far.
So here is what we did to fix that MLM Clue To Why You Fail At MLM.  We created a new website that is anonymous.  That means we branded it to a life style – and not our name.  So no one knows that we actually created the site – and we never mention our name or show our face.  And on that site – we create lot's of great value.  And we create lot's of content – that our members can promote just as if it is THEIR content.  And that is not faking it – because they are members of the site and that's one of the benefits of being a member of the site.
We also installed an affiliate link tracking software – with a life time cookie.  That means you or any member of the site can promote the site and get new members to join.  And guess what?
Yep – they become members on YOUR LIST!  So – we give you content and great value to freely share – and you grow your personal list at the same time.  And remember – these are people who are looking to become work from entrepreneurs.  So your list is now a high quality list – and you have the potential of having a HUGE list!
Because you're giving away high quality value – for free!
Now – I mentioned that we wanted to make money from all of those people who said "no" to us.  And if you are a realist – you have to do that.  Because there are thousands of MLM's out there – and people will pick the one that turns them on.  I mean – what are the chances that your particular MLM – is that "one" out of thousands – that turns your prospect on?
So we joined an affiliate program that helps everyone in the MLM business – get more leads.  And because it does not interfere – but rather it enhances our MLM – it's a perfect answer to our problem.  Besides – EVERYONE in MLM needs more leads!
Anyway – we actually created this new website for our personal team in this affiliate program – but then we all quickly realized that we need to share this with everyone in our industry.  And we say that because way too many people fail.  And that's not good for you – for me – or for the industry as a whole.
So this is what we did.  We created a bunch of categories on the site with training on those categories.  BUT one of those categories is dedicated to our personal team.  And inside of that category – we also created a "Blue Button" for people who want to take a risk free trial in our affiliate program.
Then we created a code that takes our affiliate programs user name – and inserts it into the companies link that takes the person to the trial offer.
That means that any of our team members of that affiliate program – gets FREE new members and commissions!
Now if you understand what I just said – you would be itching to get in on this.  Why?  Because we just handed you a way to get FREE Leads for YOUR MLM.  At the same time – you can create a much bigger and much higher quality list of prospects and leads.  In addition – you get a ton of FREE training that you can give away to people – a never ending supply of VALUE.
And – these new members go on your list for LIFE – when they join the sites membership.
Then finally – you would see that you could make an extra income by also joining our affiliate team because – we just created an automated system that can add new members and new commissions for you – for FREE!
This is crazy if you understand it.  Because instead of being on your own – and starting at zero like everyone normally does – you are joining a team.  A Team that provides for you – every single thing that you need to finally succeed.  And to finally make that extra income – and it's all automated.
The only thing that our team members do is SHARE free VIDEOS and free CONTENT that we create for them.  That means that no matter how busy you are – or how new you are to this business – you can finally create a work from home business!
So come on and check out our solution to the MLM Clue To Why You Fail At MLM and visit our brand spanking new site here at A Full Time Life.  And after you join – check out the Category on "MLSP" – and push the "Blue Button" and learn about the risk free trial.  Come and join the team that has it all – done for them!
My Biz: http://Dave-Webber.com/intro
Comments
comments