MLSP Team Hangout 11-17-14
MLSP Team Hangout 11-17-14 we discussed attraction marketing and the importance of giving away free value. And we also discussed search engine page 1 ranks.  And how Market Samurai shows us the hidden secrets of our competition.
We also discussed the retail value of quite a few affiliate type of products that you can promote – if you give Make Money From Blogging to your readers and prospects.
So even though the Make Money From Blogging Series is free – you can still make a significant amount of money from it.  Anyway – check out the video below – and then check out the various links listed below the video.
Note: Around the 30 minute mark – I show some cool stuff about dominating your competition.  So make sure you hang in there and see that part!
MLSP Team Hangout Video Recording
See below for various links mentioned in the video – and also – several slides that have been completed since this MLSP Team Hangout was held.
MLSP Team Bonus Give Away's For The Make Money From Blogging Series
Now I talked about the Domain Samurai domain name tool that is totally free – but there is more to it than just the domain names.  You see – it also has the keyword research module in it.  So that means you – or your prospects – can use their Google Ad-word's Keyword Planner – inside of this tool for keyword research.
That makes it so much easier – and – you get so much more information when doing keyword research.  Oh and then yeah – you can also find domain names that have awesome value and profit potential – with just a couple of clicks of the mouse.
Now like I said – when you give out this affiliate link – the prospect is linked to you for life.  So even though you are giving away a free value packed tool – you are basically putting money in the bank for the future.
So remember you don't have to get Market Samurai if you don't want it.  And you don't have to promote it either.  But  – if you want to at least provide your prospects with the link so that they can enjoy the free bonus – I will put two short links below that you can use should you have no interest.
And if you change your mind – well you could always swap out the link.  And like I said on the MLSP Team Hangout – all commissions from these links will go to help start up the team site or for advertising costs.
Market Samurai Free Trial Short Link: http://mlsp.co/l23qp
Domain Samurai Free Keyword Research and Domain Tool Download short link: http://mlsp.co/l23r3
And if you want to embed these 30 something videos on your site to give away free keyword research training – competition training etc. – here is the link for that http://noblesamurai.com/dojo/marketsamurai .
Remember that's additional 35 or 36 pages for your site – and a lot of duration time for your visitors.  Plus – more great information to give away!
Domain Samurai Video
Article Submitter – Free Standard Version
This submitter comes in 3 versions and this Standard Version is a free download and is a Click Bank product.  That means you can sign up for free – and if a person gets the free version and at some point later on upgrades – you get paid.
But in the mean time – it's a free bonus give away that you can give to your prospects to help them get back links from article directories.
Again – if you have no interest in Click Bank – which is free to join – well at least consider sharing the link to help support the team site.
Free Article Submitter Software Download: http://mlsp.co/l23sn
MLSP Team Hangout Slides
Here are the two slides that cover some of the many products that we can promote – at some point during the Make Money From Blogging Series.  Of course – these are just examples and you are certainly to promote anything that you think is appropriate on your own site.
These are just suggestions to think about.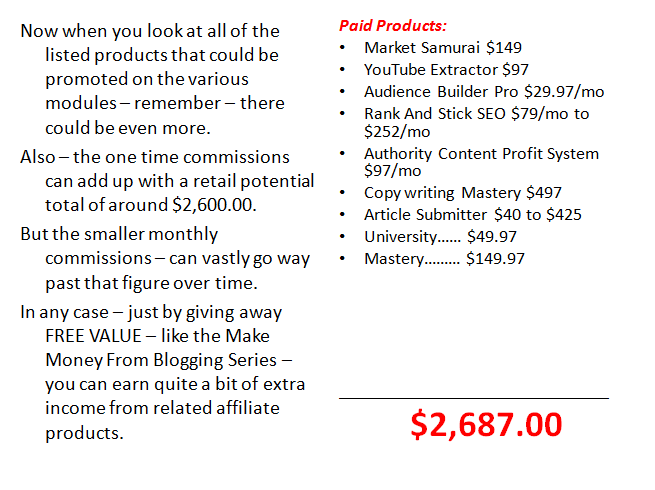 Well even if we never promote or make sales on almost $2,700.00 – there certainly is plenty of room to make some commissions on the Make Money From Blogging series.
And now – let me get back to work on it and get this party started!
Thanks for coming out to the MLSP Team Hangout!
Comments
comments